Dr. Stephan Müller
Head Trading Strategies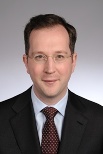 Stephan Müller is a member of the research and portfolio management teams, responsible for trading strategies. He is the co-head of the investment committee and a member of the management board of the company.
Previously, he worked at Partners Group as a member of the alternative beta strategies team. There, he was responsible for alternative investment research and portfolio management. He was also a member of the absolute return strategies investment committee. Prior to joining Partners Group, he worked for Vescore Solutions AG, a quantitative asset manager.
He holds an undergraduate degree in Mathematics from the University of Hagen, a master's degree in economics from the University of St. Gallen (HSG) as well as a doctorate from the department of mathematics and statistics at the University of St. Gallen (HSG).